PNML view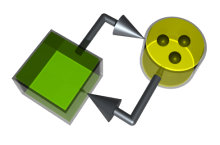 PNML view is a simple, open source, cross-platform viewer for PNML files (see http://www.informatik.hu-berlin.de/top/pnml/about.html) with support for some Yasper specific features (http://www.yasper.org) and extended export capabilities.

Features
Basic PNML viewing, including pages
Recognize and display practically all of the current Yasper (1.3) extensions to PNML
In-diagram viewing of roles associated with transitions
Extended export capabilities:

PDF export (vector graphics)
EPS export (vector graphics)
Raster graphics export including PNG and JPEG

Batch conversion from PNML files to any supported graphics format
Generation of LaTeX documentation (through batch convert dialog):

Includes generated graphics (use PDF and EPS output to get nice PDF and DVI output from LaTeX)
Prints transition descriptions and roles
Prints pre- and postqueries for transitions
Prints pre- and post-sets for transitions

Petrinet display is customizable (colors, fonts, etc.)
Fast display of large nets
Usage
You should be able to use PNML view without a manual. More complex options and preferences are documented through tooltips and "What's this?" help.
Download
PNML view can be downloaded and compiled from source (see Compiling) or downloaded in binary form for some platforms.
Windows binary, version 0.3.2 (2.5 MiB). A self-extracting zip file, extract it anywhere you like.
MacOSX binary, version 0.3.1 (5.6 MiB). This diskimage contains a universal binary that should be able to run in Mac OS X tiger on Intel and PPC architecture, although the latter is untested.
Source, version 0.3.3 (220 KiB)
Compiling
To be able to compile PNML view, you need a complete Qt 4 installation (including header files, see http://www.trolltech.com/developer/downloads/qt/index and scroll down to "Qt Open Source Downloads") and a working C++ compiler (such as GCC). If you have a working Qt installation and compiler, the following commands should suffice to build PNML view (download and extract the source yourself if you don't have wget or tar):


wget http://www.vanwal.nl/pnmlview/pnmlview-0.3.3.tar.bz2

tar -xvjf pnmlview-0.3.3.tar.bz2

cd pnmlview-0.3.3

qmake

make


Author
Written by Freek van Walderveen (freek -at- vanwal -dot- nl), 2005-2007. I do not maintain this program anymore because of lack of interest. If there would be any future development, I think the program should make use of QGraphicsView. This would simplify some of the drawing stuff and should not be very difficult to implement.
License
This program is free software; you can redistribute it and/or modify it under the terms of the GNU General Public License as published by the Free Software Foundation; either version 2 of the License, or (at your option) any later version. See http://www.gnu.org/copyleft/gpl.html
Notes on vector formats
Since Qt 4.1.1, PDF files generated by PNML view are not resized to fit their contents. I hope this feature will be available in Qt 4.4.0 (see the Trolltech task tracker).
Since version 0.3.2 of PNML view, nets get scaled to full paper size when exporting to PDF, such that they always fit.
Text is not output to SVG files. I don't know why and I hope it will be fixed in some future Qt release.